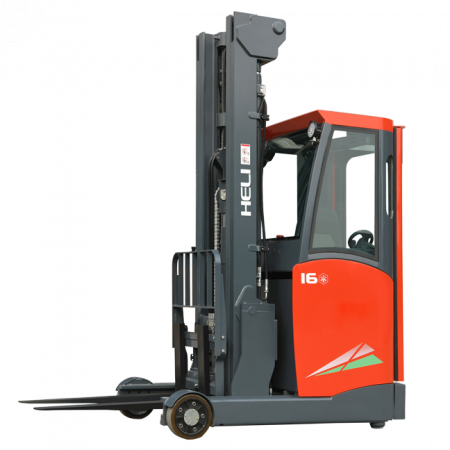 LET'S TALK COLD STORE REACH TRUCK
The Heli 1.6Ton Cold Store Reach Truck comes with three phase AC motors, CAN bus technology and ZAPI controllers from Italy. It has a regenerative braking system and EPS type steering giving you an easy, efficient and low-noise operation.
Designed specially for cold store operations, this Heli Reach Truck is equipped with sealed cab and tempered glass, with the glass on the cabin top providing better visibility and better safety to the operator.
This specialized forklift comes with a heater that provides comfortable working environment for operator. It is also fitted with special drive tires and motors ideal for cold store operations.
Additionally, the use of special transmission oil, hydraulic oil and lubrication grease ensures smooth uninterrupted operations inside cold stores. Corrosion and rust proof paint is used for the this Heli Reach Truck to work in cold stores.
This compact Electric Reach Truck is best suited for fisheries, meat processing, frozen foods, flower stores, dairies and cold stores.
THE HALA ADVANTAGE
Hala Equipment Trading is the sole distributor of Heli Forklifts, Warehousing Equipment, Wheel Loaders, Attachments and Tow Tractors in the UAE. Heli is the No.1 in China and the world's 7th largest forklift manufacturer. Our after sales service extends across all Emirates of the UAE including Abu Dhabi, Dubai, Sharjah, Ras Al Khaimah, Fujairah, Umm Al Quwain and Ajman.
Give us a call and we can help with choosing the ideal electric pallet stacker that is suited for your requirements and your budget.
To know more, call or Whatsapp Mohsin Abbas at +971 50 626 9073. Or email us as at sales@halaheavy.com.