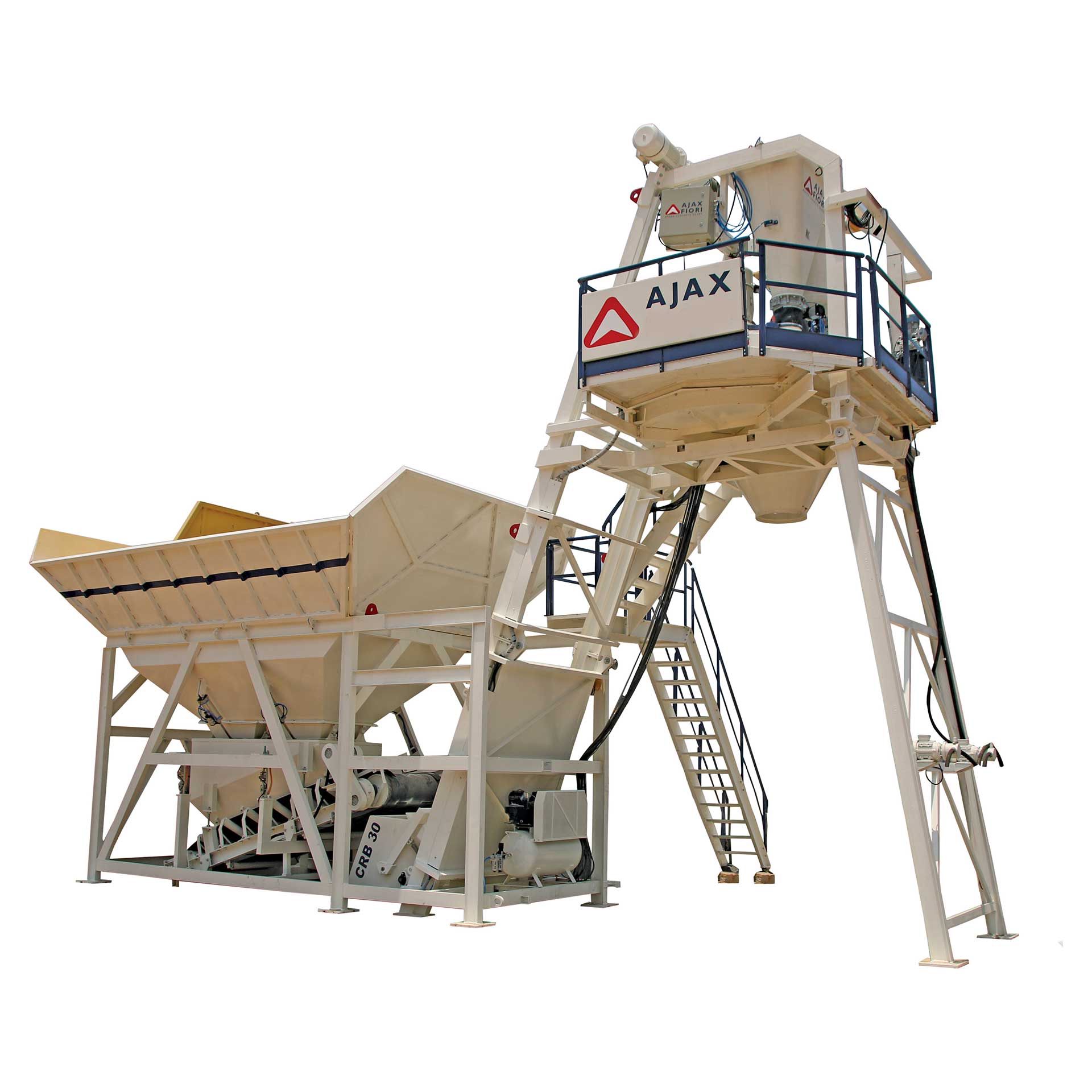 Fully automatic computerized plants.
Planetary Pan Mixers for quick homogenous mixing.
Low floor space required
Can be erected or dismantled in a single day.
Meets UAE certification norms.
Compact Reduced Bin Batching Plant CRB
SHIPS WORLDWIDE
The Compact Reduced Bin (CRB) Batching Plant is a viable addition to any precast concrete plant, block factory or infrastructure project. This plant is designed to occupy minimum floor space and for easy erection and dismantling.
The entire plant can be erected and dismantled in a single day. With swivel-able operator panels, foldable bins and a foldable Mixer Unit, the entire unit can be transported on a single 40ft trailer. The low bin height of this machine makes loading the bins easy and reduces ramp requirements.
The fully computerized automatic plant, with SCADA based Control Panel and Siemens PLC units, enables one-man production of fresh quality concrete with ease. The Planetary Pan Mixer ensures fast and homogenous mixing. Moisture correction can be done automatically or manually.
Liquid additive dosing is also done automatically. Operation and maintenance cost is reduced by the sturdy construction with high durability components and heavy-duty skip loading system with dual ropes.
The CRB series concrete batching plants meet all international standards and comply with the UAE norms, to produce all varieties of concrete from zero-slump to Ready Mix.
Capacities: 20 CuMtr, 30 CuMtr and 60 Cu Mtr per hour
Applications
These compact batching plants can be used to manufacture concrete in various sites.
Pre-cast plants
Colour concrete solutions
Road construction
Irrigation projects
Construction of tunnels and dams
The Hala advantage
Hala Equipment Trading is the sole distributor for Ajax Concrete Equipment in the UAE. Over the last 20 years, Hala has earned a name in the industry for reliable quality service and good spare parts support, within the UAE.
All users of Ajax Concrete Equipment, in the UAE, will now have access to reliable high quality equipment with matching service support and spare parts. Our trusted after sales service extends across all Emirates including Abu Dhabi, Dubai, Sharjah, Ras Al Khaimah, Fujairah, Umm Al Quwain and Ajman.
Give us a call and we can help you choose the ideal machine suited for your requirements and your budget.
Send a message on

WhatsApp
Make a free call on

BOTIM