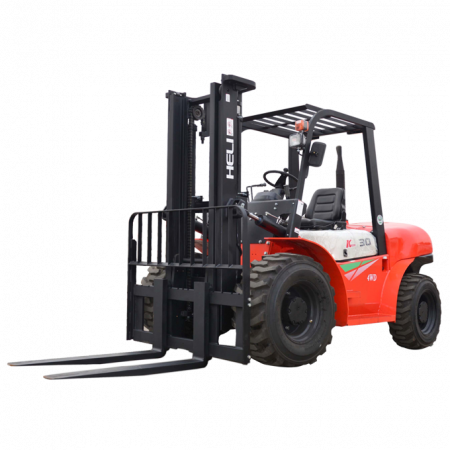 LET'S TALK ROUGH TERRAIN FORKLIFT
 The 3-3.5 Ton Heli Rough Terrain Diesel Forklift comes with an Isuzu 4JG2 Engine (Japan) and is equipped with ultra wide radial tires. Differential lock is provided on both axles to improve traction in adverse conditions. 
This specialized forklift also has low center of gravity and good stability for smoother outdoor operations. It is equipped with high quality air filtration system and high exhaust design to ensure a good working environment. The seat is equipped with an armrest and a safety belt to ensure better comfort and safety for the operator.   
The Heli Rough Terrain forklift is best suited for oil & gas, construction, mining, agriculture, farms, orchards, and marshy-land operations.  
THE HALA ADVANTAGE 
Hala Equipment Trading is the sole distributor of Heli Forklifts, Warehousing Equipment, Wheel Loaders, Attachments and Tow Tractors in the UAE. Heli is the No.1 in China and the world's 7th largest forklift manufacturer. Our after sales service extends across all Emirates of the UAE including Abu Dhabi, Dubai, Sharjah, Ras Al Khaimah, Fujairah, Umm Al Quwain and Ajman.
Give us a call and we can help with choosing the ideal electric pallet stacker that is suited for your requirements and your budget.
To know more, call or Whatsapp Mohsin Abbas at +971 50 626 9073. Or email us as at sales@halaheavy.com.