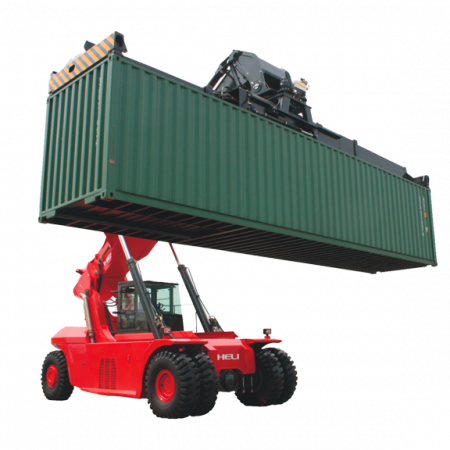 Container Reach Stacker – Container Handlers
Let's talk Container Reach Stacker
This container stacker is bigger and stronger. Its Made in Sweden – Volvo engine helps it handle additional loads with a stable power output. The Kessler front axle has superior load capacity and the wet disc brakes lend improved braking efficiency. This technologically advanced machine uses DANA TE27 transmission for additional load carrying capacity, self-diagnosis and self-protection. The communication is done via CAN BUS. The Heli Reach Stacker is ideal for logistics, shipping, ports and railway industries.
You have the option of choosing from three variants – RSH4528, RSH4532 and RSH4536. All options have the ELME Spreader from Sweden for handling 20' and 40' ISO containers.
The Hala advantage
Hala Equipment Trading is the sole distributor of Heli Forklifts, Warehousing Equipment, Wheel Loaders, Attachments and Tow Tractors in the UAE. Heli is the No.1 in China and the world's 8th largest forklift manufacturer. Our after sales service extends across all Emirates of the UAE including Abu Dhabi, Dubai, Sharjah, Ras Al Khaimah, Fujairah, Umm Al Quwain and Ajman.
Give us a call and we can help you choose the best Container Reach Stacker that fits your requirement and your budget.
To know more, call or Whatsapp Mohsin Abbas at +971 50 626 9073. Or email us as at sales@halaheavy.com.