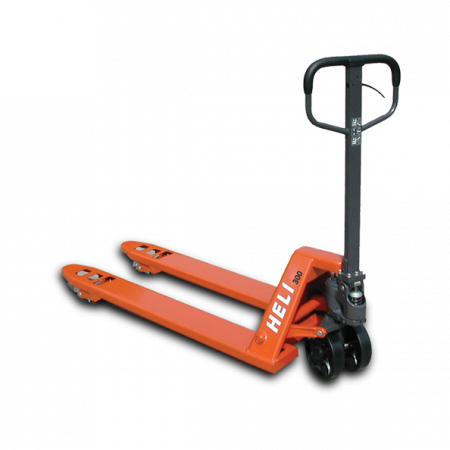 HAND PALLET TRUCKS
Let's talk Hand Pallet Truck
Heli Hand Pallet Trucks are the basic material handling models. All you need to do is pull the convenient lever in the large steering handle and effortlessly deposit the load. The special handle design of the Heli Hand Pallet Trucks offer maximum protection for the operator and makes raising loads and steering easier.
The Hala advantage
Hala Equipment Trading is the sole distributor of Heli Forklifts, Warehousing Equipment, Wheel Loaders, Attachments and Tow Tractors in the UAE. Heli is the No.1 in China and the world's 8th largest forklift manufacturer. Our after sales service extends across all Emirates of the UAE including Abu Dhabi, Dubai, Sharjah, Ras Al Khaimah, Fujairah, Umm Al Quwain and Ajman.
A unique feature of our service division is our fleet of service vans which are kitted for carrying out comprehensive service at your desired locations. We are always ready when and where you need us.
Our service team includes more than 30 qualified staff for handling all kinds of service and repairs. With extensive experience, each service engineer has practical, hand-on knowledge of service and repairs of heavy equipment, covering Mechanical, Hydraulic, Transmission, Electric and Electronic systems. Their knowledge is further enhanced by specialist training from Heli. To ensure uptime, this expert team is backed by an extensive stock of spare parts, with critical parts stored in a climate controlled environment.
Give us a call and we can help with choosing the ideal warehousing equipment that is suited for your requirements and your budget.
To know more, call or Whatsapp Mohsin Abbas at +971 50 626 9073. Or email us as at sales@halaheavy.com.