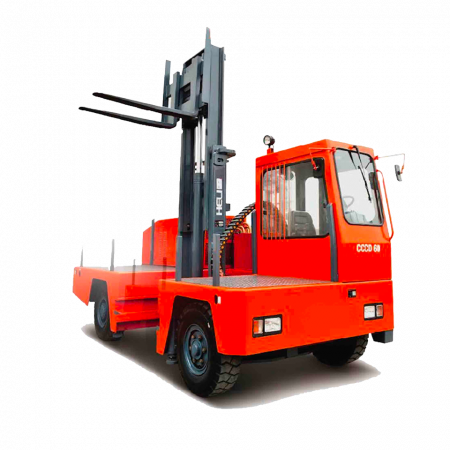 SIDE LOADING FORKLIFTS
Let's talk Side loading Forklifts
Side loading Forklifts are commonly used in the timber, glass, steel, aluminium, construction and aviation industries. They are also used by industries producing unusual products such as windmill arms and mouldings – or any industry that produces a long, awkward or oversized item. Pipes, a particular speciality of side loaders, are often stored in custom-built, cantilevered racks.
The side loading forklift is an internal counterbalanced forklift truck that is best suited for warehousing, logistics, foods, chemicals, paints, beverages, mineral water, oil & gas, fruits & vegetable industries and businesses.
The Hala advantage
Hala Equipment Trading is the sole distributor of Heli Warehousing Equipment, Wheel Loaders, Attachments and Tow Tractors in the UAE. Heli is the No.1 in China and amongst the world's 10 largest forklift manufacturing companies. Heli is also the only forklift manufacturer in China to be publicly listed in the Shanghai Stock Exchange.
Our after sales service extends across all Emirates of the UAE including Abu Dhabi, Dubai, Sharjah, Ras Al Khaimah, Fujairah, Umm Al Quwain and Ajman.
One of our forklift experts can visit you at your office to give you more information about side loading forklift trucks.
To know more, call or Whatsapp Mohsin Abbas at +971 50 626 9073. Or email us as at sales@halaheavy.com.