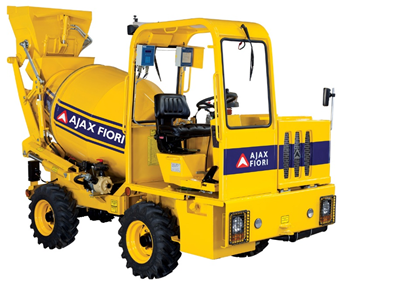 Argo 1000 – Compact Self Loading Concrete Mixer
DESCRIPTION
The Compact SLCM with a 1.0 Cu M drum capacity comes with an articulated chassis with 4-wheel drive, enabling easy work even in the smallest of work sites. The comparatively lightweight machine is nimble and tough and enables one man production of fresh quality concrete with ease.
Keep your worksite operational even when you need only 1.0 CuMtr of concrete at time, more than a few times a day. Eliminate the time, spent waiting, for your supplier to deliver on his promises
Keep your customer and your staff happy and also make your life easier by producing and delivering quality concrete , at your convenience, with precise weigh-batching , accurate water regulation, and proper record keeping of every batch produced
The Hala advantage
HALA Equipment, Dubai are the sole representatives for Ajax Concrete Equipment in the UAE. HALA Equipment has a well-earned name for reliable quality service and good spare parts support, within the UAE, since more than twenty years.
All users of Ajax Concrete Equipment, in the UAE, will now have access to reliable high quality equipment with matching service support and spare parts The Hala trusted after sales service extends across Abu Dhabi, Dubai, Sharjah, Ras Al Khaimah, Fujairah, Umm Al Quwain and Ajman.
Give us a call and we will help you choose the ideal machine that is suited for your requirements and your budget.
Sam Thampi: +971 56 434 8412
Email: sales@halaheavy.com