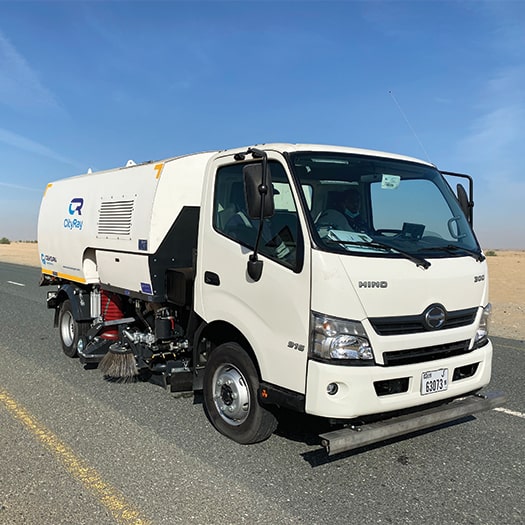 CITYRAY – TRUCK MOUNTED VACUUM SWEEPER WITH WATER SRAYING SYSTEM
Çeksan's truck-mounted line of vacuum air sweepers have hopper capacity ranging from 4 m3 to 10 m3. The twin engine Çeksan CityRay Vacuum Sweepers are CE certified, offering the best performance and flexibility for truck mounted sweepers. What's more, you can choose a truck with the most suitable chassis for your location and application as the Sweeper can be mounted on any chassis.
CE CERTIFIED PM2.5 – ENVIRONMENT FRIENDLY MACHINES
The Çeksan CityRay Vacuum Sweepers are designed to run at low rpms, reducing their environmental noise footprint.
With their powerful water spray systems, the CityRay sweepers have been CE Certified to control dust emissions within PM2.5.
THE HALA ADVANTAGE
Hala is the sole distributor for Çeksan Sweepers in the UAE. Since 1998, Hala has earned a name for itself for reliable service and quality spare parts, across the UAE.
All users of Çeksan machines have access to Hala's trusted after-sales service extending across all Emirates of the UAE, including Abu Dhabi, Dubai, Sharjah, Ras Al Khaimah, Fujairah, Umm Al Quwain and Ajman.
Give us a call and we can help you choose the Sweeper that is best suited for your needs and your budget.
Book A Free Trial Now!