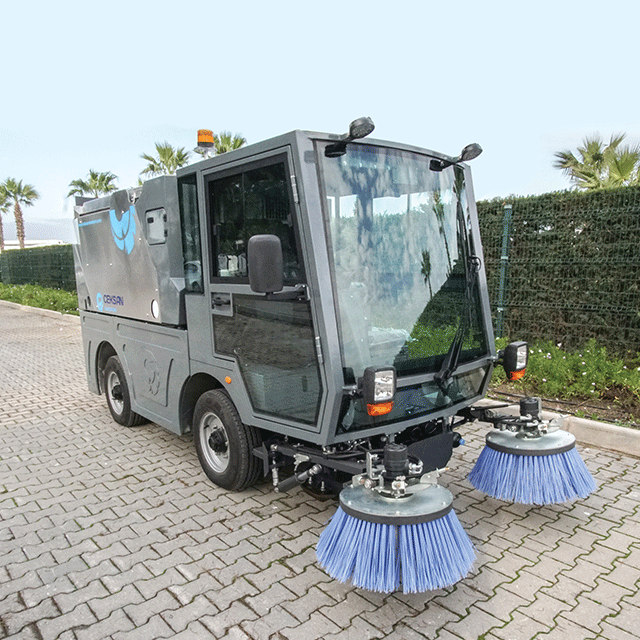 City Mouse – Compact Vacuum Sweeper for narrow community streets
The City Mouse with a robust compact structure can effectively vacuum the debris found on most city streets. The modular design enables effective sweeping with low noise, dust suppression, and ease of maintenance, all work together with exceptional on-task endurance.
Ultra maneuverable for tight city streets
The compact design with all wheel steering enables excellent manoeuvrability and an extremely small turning circle is easily achieved. CityMouse has an advanced 2-brush system with Independent Brush Control to ensure absolute mobility in any sweeping situation, with adjustment of the rotating speed and ground pressure.
The Hala advantage
Hala Equipment are the sole representatives for Çeksan sweepers in the UAE. Over the last twenty years, Hala has a well-earned name for reliable quality service and good spare parts support, within the UAE.
Çeksan has achieved success by exceeding customer's expectations not only by producing the highest quality machines, but providing them with the best and fastest service as well.
All users of Çeksan machines in the UAE will now have access to the reliable high quality sweeping equipment with matching service support and spare parts. The  trusted after sales service of Hala extends across all Emirates of the UAE including Abu Dhabi, Dubai, Sharjah, Ras Al Khaimah, Fujairah, Umm Al Quwain and Ajman.
Give us a call and we can help with choosing the ideal Sweeper that is suited for your requirements and your budget.
Sam Thampi: +971 56 434 8412
Email: sales@halaheavy.com